CTS successfully starts the new seminar season in June
Presentation at the IASIU Europe Conference on Insurance Fraud in Malmö
Organization of the Accidenta insurance seminar on the CTS site
Venue for Vaillant Roadshow "Mission 2024"
Lecture and stand at the Testing Expo in Stuttgart
X-ray of a biofidel dummy with a presentation at the carhs practical conference for pedestrian protection in Bergisch Gladbach at the Bast
Presentation of the simulation model at the Impetus Conference in Flekkefjord with our partners from EDAG and the HTW Dresden
Did you miss us in June? We will see each other again at the latest at these events:
Upcoming events
The first preparations for the drop tests (fall tests) in aviation are underway.
With the drop tests, the effects on the aircraft cell structure, the landing gear and other components are shown.
Using our biofidel dummies, not only the loads that affect the occupants can be measured, but also the injuries of the occupants, such as vertebral contusions, become directly visible.
Are you also interested in drop tests with airplanes, helicopters, drones or other aircraft?
Report on Generic Hull Live-Fire Test with PRIMUS Dummy
A live-fire test using a Generic Hull vehicle surrogate was conducted at the Fort Polk, LA test range on December 8, 2021. The test was conducted to provide baseline data for a correlation study to determine laboratory to live-fire comparability. Additionally, the test provided an opportunity to evaluate the PRIMUS Dummy performance in an environment of the Occupant Protection Laboratory (OPL)...
Full Report
VEHICLE.SECURITY.BARRIER.CONFERENCE. (VSBC)
After the Corona-related suspension, we are pleased to finally be able to hold the renowned specialist conference for Vehicle Safety Barriers of the BTU under a new name on the CTS crash test site.
Other cooperation partners such as the ProPK of the police, the DStGB and the BSKI look forward to your participation and the lively professional exchange with you.
The speakers from this year's main sponsors Hörmann and Stahlkontor will also present their latest systems to you in the exhibitor area.
What you can expect:
Displacement and manipulation test according to DIN SPEC
crash tests with Vehicle Safety Barriers
Top-class speakers
exhibitor area
PRIMUS dummy with 6-axis power cell in the lumbar spine
In order to make it possible to experience loads on the spine in the future, we have equipped the PRIMUS biofidelic dummy with a 6-axis force cell from Kistler in the lumbar spine, which measures the forces and moments that act on the lumbar spine. In this way, permanent loads (vibrations, oscillations) can be measured. Due to the lifelike reproduction of the PRIMUS spine, loads in "unnatural" postures (twisted or bent back) can also be determined.
Injury reconstruction of King Arthur with biofidelic dummy
ZDF has conducted an experiment on this. The role played by the PRIMUS dummy can be seen in the current episode "Mythos: König Artus - Die größten Rätsel der Geschichte" (from min. 27.00).

to the documentary

 
CTS at the Intertraffic in Amsterdam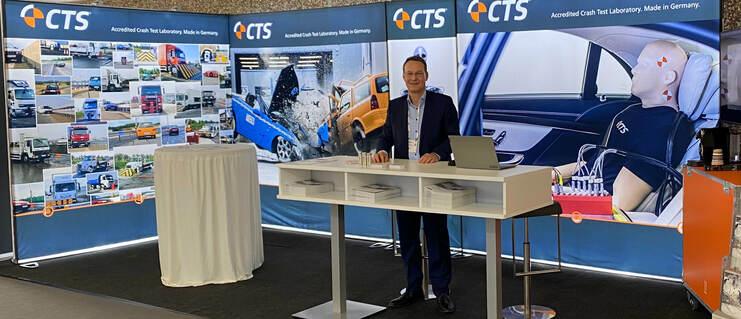 We look forward to seeing you at our booth in hall 8, booth 08.133.
We would be happy to talk to you about our test options in the field of vehicle restraint systems:
EN 1317 / DIN EN 1317 / EN 12767 / DIN EN 12767 / MASH / NCHRP 350
BS PAS 68 / BSI PAS 170-1 / ASTM F 2656-07 / ASTM F 2656-07 / IWA 14-1
Can't attend Intertraffic in Amsterdam?
We would also be happy to arrange an appointment at the btu's VSB (VEHICLE.SECURITY.BARRIER.CONFERENCE. 2022) conference at CTS.
Program as well as exhibitor and participant information:
Press release DLRBT on the Primus biofidelic dummy and biofidelic artificial bird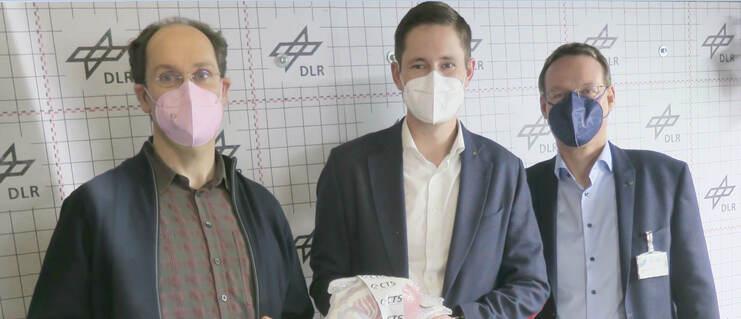 DLRBT received visit by crashtest-service.com CTS for an exchange on crash test dummies. Peter Schimmelpfennig and Dr Mirko Dobberstein toured the institute. Test possibilities were discussed at the DLR Stuttgart site and how CTS' Biofidel Anthropomorphic Test Dummy can contribute to occupant safety in aeronautics.
On that occasion two witnessed tests with 1.8 kg (4 lbs) birds were conducted: CTS biofidel artificial bird under identical impact conditions and DLR's Artificial Bird DLRRAB.
See latest application of DLRRAB: Information
For this rotorcraft application on the RACER a DLRRAB with 1.0 kg was applied. DLRRAB is scalable to all bird weights.
Stay tuned for more information!
Of course, during the visit all Corona rules were observed!
Es wurden keine Elemente gefunden.